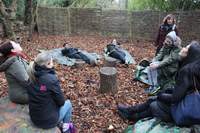 Adult Wellbeing Sessions
Well-being Saturday mornings or weekday mornings which may be suitable for parents after they drop off their children at school.
This is a six week course where participants experience the art of flower arranging and scavenging for greenery in the local environment.
Participants learn about making a simple table arrangement, willow art with flowers, bridesmaid tributes, baskets of flowers, hand held bouquets and seasonal arrangements. Depending on the season they may select edible plants for cooking and eating around the fire.
Cost £ 60.00 per person per course. All materials supplied.