Programmes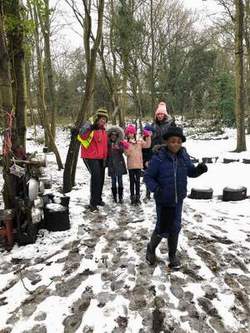 "In nature, a child finds freedom, fantasy and privacy; a place distant from the adult world, a separate peace."
Margaret McMillan (1860-1931) educator
Programmes are 5 or 10 weeks long and cater for a maximum of 10 pupils (£10 per child attending). Sessions compliment the Literacy, Numeracy and Science National Curriculum through hands on activities (click on our brochure). These activities include:
Tool work
Foraging and scavenging
Building dens and rafts
Fire lighting and cooking
Leaf identification
Natural crafts
Story telling
N.B. Shorter courses for special educational schools can be designed to support specific needs and further develop the pupils' strengths.